(Denim) details matter
The finishing touch to every product: a brand label with logo or text about the brand.
Yarns of recycled denim – that's cool! But can we manage to produce labels, that are highly detailed, with these natural and sturdy yarns? We show we can.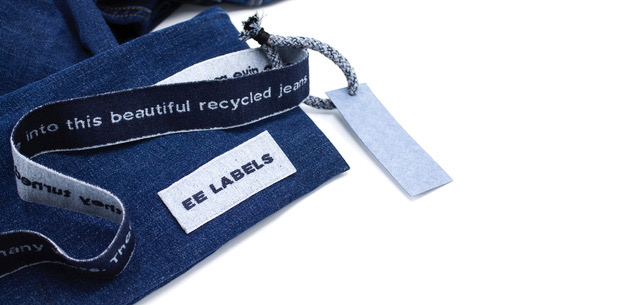 EE Labels about working with the denim yarns: "Our machines are set to display every small detail of a logo: with many threads per cm and a warp of the finest yarns. Nevertheless we like to experiment ! Different brands require different labels, with a woven label or ribbon made of denim yarn we added a new and exciting product to our collection" says Marloes Evers, marketing manager of EE Labels.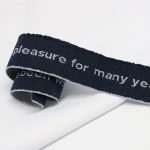 "Denim labels or jacquard tapes have their own specific esthetics. While a (recycled) polyester woven label is very fine and displays even small details, the denim quality works for big or capital letters and has a sturdy look. A perfect match to brand any product from recycled jeans."
Interested in this project?
Then get in touch with EE Labels.