Labels with QR codes and NFC chips
'Connecting the physical and digital world with smart labels'
Interact with customers with branded content
Upsell and/or resell through mobile marketing
Inform product user, add instructions, warranty
Measure response for customer insight.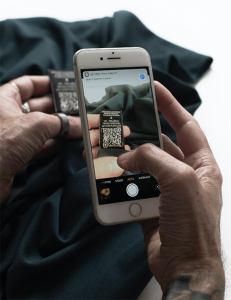 High customer perception
Not visible
Exclusive content
Brand security
Unlimited washability
Highly visible
Easily recognizable
Low cost
Brand that uses NFC chips

"Customer engagement" becomes more and more important, but how do you realize that? EE Labels helps you as a brand by providing the brand label with an NFC tag. The NFC label remains, from production to end use, connected to the end product and is continuously connected to the user.
Moooi ensured customer loyalty and designed a button that contains an NFC chip. Customers gain access to the Moooi brand app and will be surprised by many special features.
Brand that uses QR labels
 By using a QR code in carelabels, you're able to attach a composition, washing instructions and warranty to your customers.
A complete sustainable choice: a woven QR label, made from recycled polyester. Running brand Unsanctioned solely chooses sustainable. This is stated clearly on the label itself.