EE Labels x Ubed – Sustainable mattresses with sustainable labels
CEO Wouter Simons collects his orders from EE Labels himself, then drives on to Belgium to continue local production of the Ubed mattresses. In the interview series "Beyond labels," Marloes Evers talks to innovators in textiles. What do they initiate and is there a common thread in their work?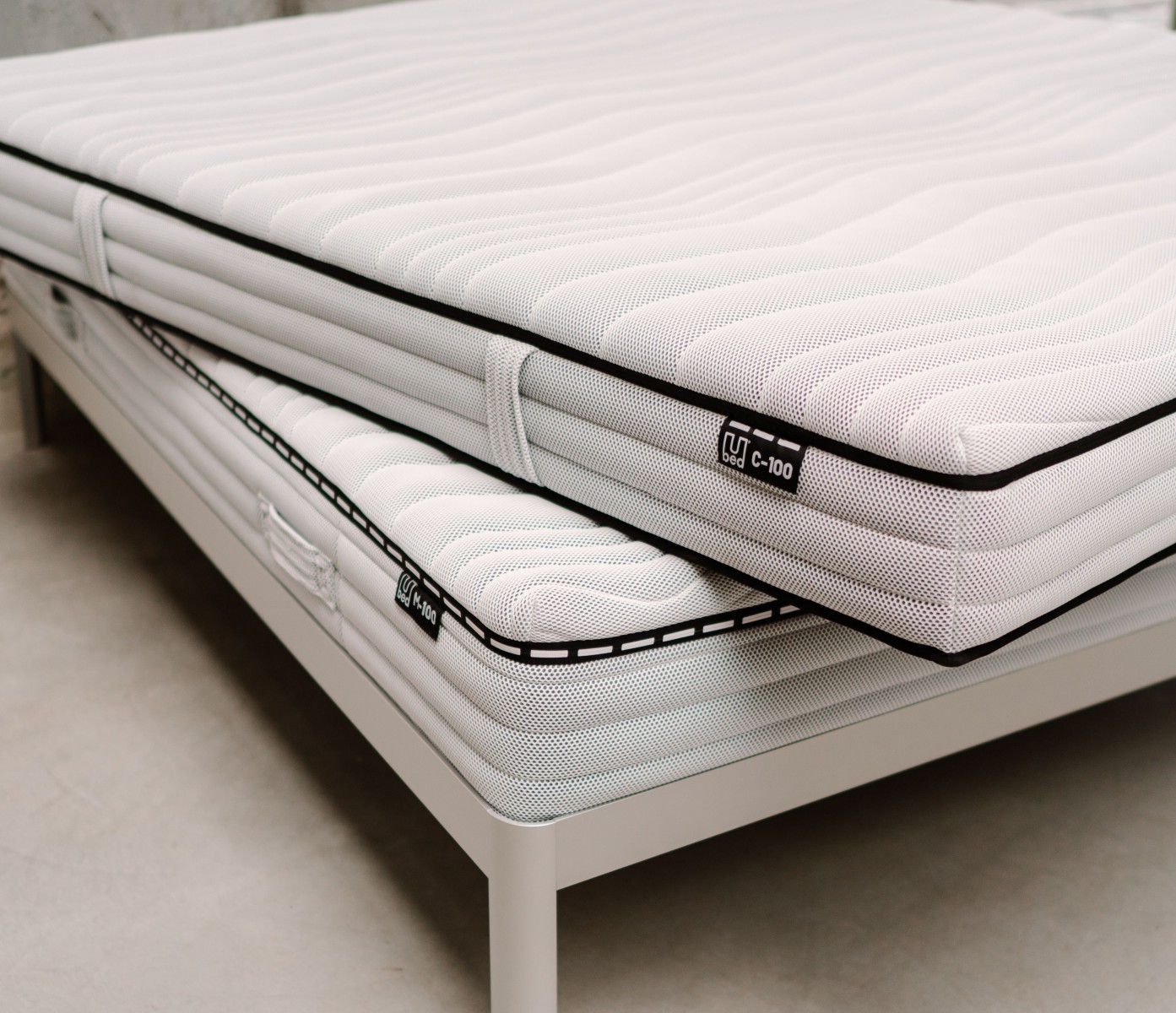 The waste problem in the mattress industry is still the biggest challenge. Every year, more than 1.5 million mattresses are discarded in the Netherlands alone due to various barriers, including lack of time, effort and cost for both consumers, municipalities and producers themselves. To address this problem, startup Ubed has come up with a solution, in the form of a sustainable mattress.
How important are those local partners to Ubed?
Local partners are critical to our business. We enjoy working with local producers to produce our products and supply materials. By producing locally, not only do we reduce CO2 emissions, but this way we ensure better control over the quality of our products and keep the lines of communication short.
What was the reason for starting Ubed?
The reason is the mattress waste problem. Unfortunately, only one-third of all discarded mattresses are currently recycled in the Netherlands. Mattresses that end up in the bulky waste are recycled only if they are clean and dry. Most of the recycled mattresses get a second life as an inferior product through downcycling. This involves converting a mattress with a foam filling into, for example, a judo mat or insulation material.
Ubed's mission is to address the industry's waste problem while providing customers with a good night's sleep. This is done through modular mattresses made from 100% recyclable materials and sustainable service. Thus, a Ubed mattress always consists of parts that are individually interchangeable. This makes it possible to provide each side with its own firmness and extend the life of the mattress. In addition, polyester is used for the filling. A deliberate choice, as this material is optimally ventilating and highly recyclable.
Ultimately, Ubed prefers to repair rather than recycle its products. Repairing is better than recycling because it helps extend the life of a product, thereby reducing waste. When a product is repaired, it can be put back into use and does not have to be thrown away and recycled into a new product. This saves energy and raw materials needed to recycle the product. In addition, repairing a mattress is cheaper than buying a new one, which also relieves consumers' wallets.
And what will the mattress industry look like in 5 to 10 years?
We believe that in the coming years the mattress industry will change tremendously. The problem of mattress waste and its disposal must be drastically reduced and done in a circular way.
We are working on new methods to make mattresses that are easy to repair and renew and can also be recycled into raw materials to make new mattresses. We want to be a leader in this development and are working hard to make our products more and more sustainable.
What steps are planned for Ubed in the coming years?
Our priority remains developing innovative products for the bedroom that not only improve the consumer's sleep experience, but also help reduce the mattress waste problem. We continue to research new technologies and materials to make our products even better. In addition, we remain committed to producing locally and strengthening cooperation with our partners.
Finally, what lesson can you pass along to startups in the textile industry?
I would say it is important to be selective about who you partner with. Make sure you always stay true to your own vision and mission, and find partners who fit with that and support your project because they also believe in you. In addition, it is important to keep innovating and keep looking for ways to contribute to your environment.
Ubed & labels
That careful attention is paid to sustainability in every part of the mattresses is also evident in the choice of labeling. Ubed opts for local and sustainable labeling through mattress banding and labels made from recycled yarn, woven by family business EE Labels.
Curious about all the options for sustainable labeling?