About EE Exclusives
The recent arrival of two large new machines will enable us, starting in 2014 under the name of EE Exclusives, to focus specifically on the production of customized and personalized fabrics for unique interior design, fashion and art projects, special editions, and small production runs. Working together with nationally and internationally recognized designers, architects, artists and many promising new talents, we make the following products:
Wall coverings / Gobelins / Curtain and Wall panels / Upholstery fabrics / 3-D Furniture covers / Couture fabrics / Autonomous Art projects / Book covers/ …
Any desired pattern or design is possible in Jacquard
Our machines can make practically any desired pattern or design with a small or large repeat. Are you looking for patterned fabrics in a single colour or would you prefer a contrasting effect?
"We are the only player in the Netherlands that can offer this, and all our products are of the highest quality. We have been supplying our clients with the very best quality for years, as reflected for example in our collection books, and this sets us apart from our competitors in other countries."
"Our Jacquard fabrics are unique and exclusive products. What we offer in terms of design and quality is really special, and we can satisfy practically any request from our clients."
Would you like to have a Jacquard fabric designed to your own specifications? Then contact us and we will be glad to discuss the possibilities with you.
What is jacquard
Jacquard is actually a fabric with the pattern or design woven into the fabric. In 1805, the Frenchman Joseph Marie Jacquard (1752-1834) invented the Jacquard loom named after him. He had been trained as a silk weaver and added a special piece of hardware, called a Jacquard head, to the loom which automated the process of raising and lowering separate warp threads with the help of punched cards. By intentionally skipping certain warp threads, it was possible to create a vibrant and beautiful woven surface.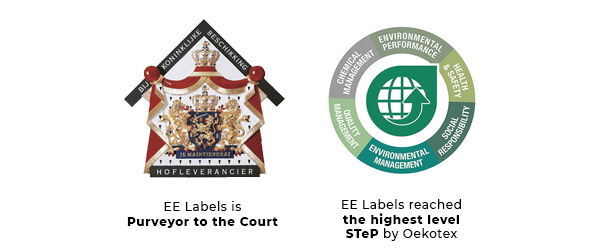 The family firm of Van Engelen & Evers has been weaving fabrics in the town of Heeze in Noord-Brabant since 1900. The firm has come a long way since it originally started making beautiful fabrics for saris and traditional costumes and is now a leading supplier of high-quality woven labels for a wide range of top global brands. A rich tradition of skilled craftsmanship and an ongoing drive towards innovation have combined to make EE Labels a reliable and trusted partner for over 110 years, and we are proud to have been awarded the title of Purveyor to the Royal Household.
Since 2000,  EE Labels has been a Friend of the famous Design Academy Eindhoven, giving us the opportunity to invest in young designers and new ideas. One of these new ideas is the 'gobelin of the 21st century' in which the precision and extremely fine level of detail developed by EE Labels for its woven labels is applied to create very finely woven wall hangings. This technique was also used to create the special couture fabrics used for Walter Van Beirendonck's 2014 summer collection and for the "Woven Cabinet" – a cabinet designed by Kiki van Eijk and Joost van Bleiswijk which was presented by the firm of Moooi at the Salone Del Mobile 2014 in Milan.