Facemasks of sister company Nominette
Due to the shortage of materials in healthcare, we can now clearly see how dependent we have become on the Far East. As a production company in The Netherlands, we have the opportunity to produce products on a large scale. The main reason that clothing was moved was labor costs.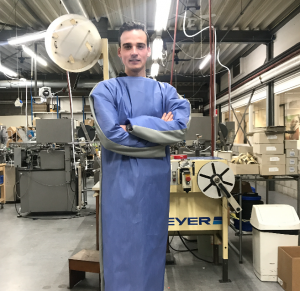 Thanks to our 3D weaving technique, developed under the name EE Exclusives, we can now weave shapes that come from one piece of the machine, which are then lasered and require little or no confection. Based on this idea, we continued to develop a 3D woven jacket as an emergency solution for healthcare.
This jacket is not (yet) certified and hopefully does not need to be used during this corona crisis. However, if the need becomes so great, we are of course ready to help.
Parallel to the development of this 3D jacket, we also worked on facemasks, the shortage of which is even greater. Face masks for healthcare must meet many requirements and pass the necessary tests. However, now that wearing a facemask for consumers is mandatory in various countries (for example in the Czech Republic and Austria), we also received a lot of demand for this.
That is why we developed a facemask especially for consumers for our sister company Nominette. In this way, certified facemasks – which are solely needed in healthcare – remain available to professionals.
Buy a set of 5 pieces at the Nominette webshop for €19,50 / set