QR stands for quick-response and is based on a two-dimensional barcode that can be scanned by your smartphone. You are then automatically directed to a URL/domain that can be linked to all kinds of functionalities. Our advanced weaving and digital printing technologies allow us to produce very fine details and to integrate a QR code into any label or ribbon.
What applications are possible with QR Labels?
By adding a QR label, you can, for example, communicate directly with your end user. You can do so by allowing the label to direct the user to an action page with more information on your website. This is just one of many possibilities. Contact us for more information!
Integrating QR labels into shirts is just one of many possible applications of such labels. Please feel free to contact us, and we will be happy to provide you with extensive information and detailed advice!
Interaction
A link to instagram, description to your newsletter or a discount code for their next order: just some of the possibilities to connect the physical and digital world. Get a grip on your customers and find out about their interests, or invest in your relationship with social media.
With branded content you show all about your story, people and goals of a brand. By adding questions or offering discounts you can measure response.
Transparency
With a QR code that links to your website and its sustainability page you're able to be transparent. Tell what you feel like telling: where you buy materials, the production location and with this your footprint. Enabling customers to feel good about their purchase.
Also instructions for use and warranty details can be added.
Brand authenticity
Many brands face the threat of counterfeits. With a unique QR code every single item can be located and added to a database. From production to end user: once the label is attached to the garment everyone can scan.
User cases
UNSANCTIONED – sustainable running brand from Amsterdam uses QR-code on the care labels. Next to the QR CODE is mentioned that the label is made from recycled polyester.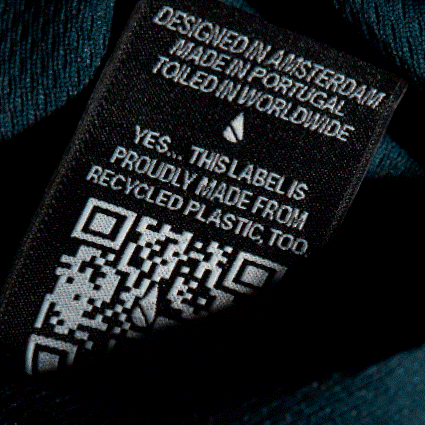 ZIGN – the circular collection of Zalando – with a unique QR code in every garment, Zalando shows how, where and with which material a garment is made. For complete transparency!