Sustainable labels made from organic cotton
Despite the circumstances, or perhaps precisely because of those, it is moreimportant than ever to work on new solutions that are better for our environment. At EE we believe in mono-material products: consisting entirely of 1 material only, this makesrecycling possible.
MONO MATERIAL PRODUCTS
A labelof natural materialis made of only natural fibres and a polyester label of 100% polyester. This is sustainable, asthe recycling stream remains "clean" and transparent.
Sustainability in the fashion industry is slowly becoming the norm. Making your labels and hang tags more sustainable is an easy step in the right direction to makingyour brand more sustainable. In addition to recycled polyester labels, we also offer a natural alternative: 100% cotton labels.
WOVEN LABELS OF (ORGANIC) COTTON
New in our range: woven labels of 100% cotton. A coollook and suitable for logos with a BOLD font. With this sturdy yarn it is difficult to display small details. Our woven labels with recycled polyester are thebetter choice for thislook.
We weave labels in cotton as of 5,000 pieces > mail for your quotation
Recycled polyester labels are available starting from 250 pieces, at our webshop > EE Label Factory
The logical question is whether these labels are also made of GOTS-certified cotton? The first tests have been carried out and the results areshown below. We are currently using up our current stock of cotton. As soon as we get through this, all the cotton we buy for these labelswill be GOTS certified. Of course, it wouldn't be sustainable not to use our current stock of cotton.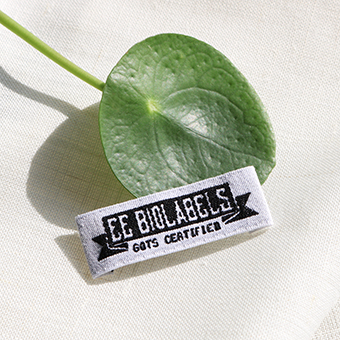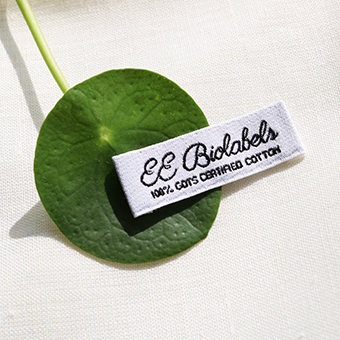 PRINTED LABELS OF BIO COTTON
EE Labels supplies printed labels, from GOTS certified organic cotton. Your design or logo is printed on the organic cotton with environmentally friendly inks for which we have an Oekotex-100 certificate. Ordering printed labels from organic cotton? You can order numbers between 250 – 8,000 pieces online here. Need a larger number? Please contact us for a custom quote.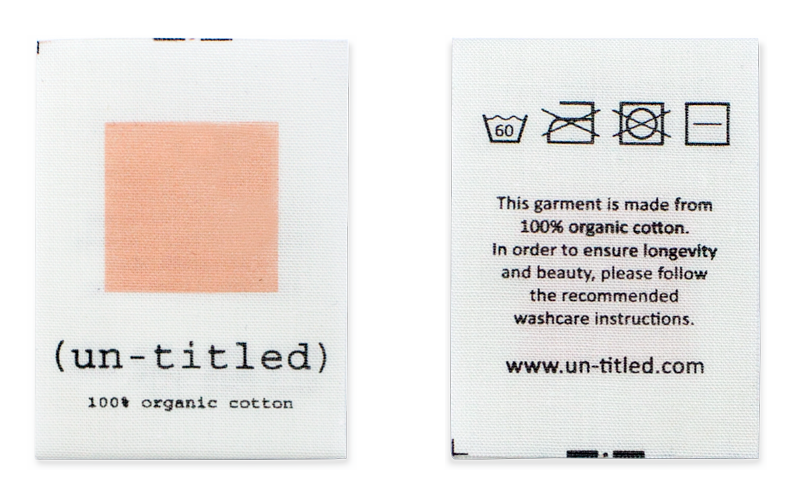 Order woven, 100% cotton labels? Get in touch with us.