A preview on 2023
After a great 2022, at the beginning of 2023 we like to look ahead, with our goals for the new year. For example, this year the focus will be on improving EE Label Factory's webshop and our global Labelservice, our company will be made more sustainable and we want to make even more people happy this year with the jacquard woven fabrics by WEEEF. You can read more about our plans for the new year in this New Year's update.
Online the best shops
This year, we continue to improve the usability of our EE Label Factory webshop and, of course, we will continue to provide super-fast delivery within 7 working days and top quality labels. Through the Labelservice webshop, with which we provide labeling for brands worldwide, your stock will be visible 24/7 and you will find all your orders and order history in one place.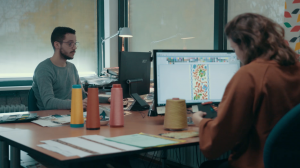 Let's go greener!
Sustainability is again high on our agenda this year. Among other things, the sale of unique QR labels, on which you can link a 'product passport' of a textile product. This QR code can be easily scanned to show the composition and production process of the product and offers you as a brand an opportunity to have direct contact with your end customer.
In addition to the development of these QR labels, our factory will continue to become more sustainable. For example, we are going to make a decision about solar panels and we are thinking about making the offices more sustainable. This year we are also once again committed to remaining at the forefront of new, sustainable materials for labels and hangtags through research and development.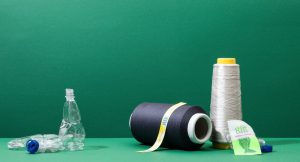 Jacquard woven fabrics and art
Last year we made many customers happy with a woven jacquard fabric through WEEEF and EE Exclusives. For at home, with the WEEEF collection but also through larger projects and collaborations with, for example, Sampat Studio, Endless Joy, MX Paris and a beautiful project for a large hotel that has yet to open. Beautiful new collaborations are planned again this year, both for our own WEEEF collection and with custom-made jacquard fabrics via EE Exclusives. For example, the WEEEF collection will be expanded with other products in addition to woven art. More on that later..